Morso Model NXLEH Notch Cutting Machine
Morso Model NXLEH is an electric/hydraulic guillotine for cutting window bars, mullions and cabinet front frames requiring haunch joints.
Morso Model NXLEH is a machine designed for medium to high volume production - the noise level is below 70 db. The Morso Model NXLEH will cut plastic, all kinds of wood, including MDF. The Morso Model NXLEH operates in principle the same as Morso Model NF. The advantage with the NXLEH model is its ease of use. The hydraulic cutting action is activated by the operation of dual-hand control, ensuring total safety. The Morso Model NXLEH is available with either single or three-phase motor, and voltage at request.
To compare Morso Model NXLEH with a moulding machine, the following points must be considered:
a cleaner and more constantly accurate cut will be produced with Morso Model NXLEH,
the Morso Model NXLEH is almost silent by comparison,
the Morso Model NXLEH produces no dust and therefore requires no extraction,
the Morso Model NXLEH requires less than 15 minutes to change the cutting blades, to set-up, and to the positioning of the stops,
as the blades wear, the 45° angle remains unchanged, ensuring consistently accurate joints.
The Morso Model NXLEH is supplied with the same standard equipment as the Morso Model NF, plus it has:
automatic cutting cycles for both large and small work pieces - which means that the machine always does the trim cut which is very important,
adjustable length of stroke ( 2 positions ) - when using the lowest cutting position the cutting cycle of two cuts only takes between 1 and 1.5 seconds.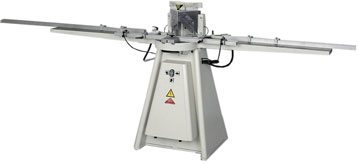 ---
Options:
Morso Model NXLEH can be delivered with manual or fully automatic digital stops,
fences 2,500 mm supplied with extra extension table and supporting leg,
nose width from 3 - 5 mm available,
nose width up to 40 mm available.
Technical data for
Morso Model NXLEH Notch Cutting Machine
Nose width ( Morso NXSEH )
6 - 20 mm
Nose width ( Morso NXLEH )
12 - 26 mm
Cutting width, max.
200 mm
Cutting height, max.
140 mm
Fences, left and right
1,500 mm
Extension tables, left and right
1,000 mm
Motor, single or three phase
1.1 kW
Working pressure
80 bar
Pumping capacity
7 litre/min
Power transmission
660 kg
Tank contents
8 litre
Net weight
145 kg