Morso Model F plus Ten Mitring Machine
New ergonomic working height - 100 mm higher than Morso F
Morso F plus Ten mitring machine cuts double mitre at 45° and single mitre up to 90°.
Tenon, mortise joints, and a wide variety of angled cuts can also be made.
Morso F plus Ten - Introduced January 2014.
The latest machine in the Morso range is the manually operated Morso F plus Ten, which works after the same principles as the Morso F.
The standard Morso F is now more than 100 years old (the first Morso F was made in 1911) and in all that time the working height of the table has remained the same.
However it is a fact that people has grown taller in general since 1911 and therefore we are proud to introduce the Morso F plus Ten, where the working height has been increased with 100 mm (4" ) in order to suit our taller operators.
Very importantly the working height of the foot pedal is still the same, compared to the standard Morso F.
It is only the working table which has been raised by 100 mm. (4"). Especially for taller people the change of height makes the Morso F plus Ten extremely more convenient and ergonomic to work with.
Operators working the machines more than 1 hour a day needs the best possible working conditions and this has now been achieved with the extra height.
The main features of the Morso F plus Ten are as follows:
manually operated – no compressor or electricity needed,
ergonomic working height,
dust free operation,
noise less operation,
superb finish – exact 45 degrees cut no extra preparations needed before joining,
built to last for generations.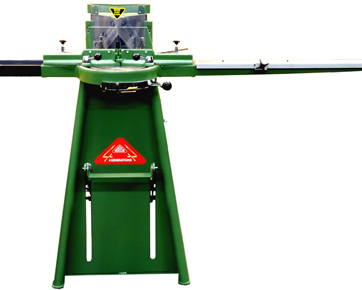 ---
Furthermore the Morso F plus Ten is delivered standard with automatic rebate support system and left hand extension table, safety guard, waste chute, sliding longitudinal stop, measuring scale up to 1,500 mm ( available to 2,500 mm upon request ) adjustable fences and adjustable rebate supports.
The Morso F plus Ten cuts hard wood, soft wood, plastic and MDF.
The warranty of Morso F plus Ten is 5 years.
Technical data for
Morso Model F plus Ten Mitring Machine
Double mitre
45°
Single mitre up to
90°
Cutting width, max.
100 mm
Cutting height, max.
160 mm
Square cutting
65/65 mm
Measuring scale up to
1,500 mm
Net weight
90 kg