Morso Model F De-Luxe Mitring Machine
Morso Model F De-Luxe mitring machine cuts double mitre at 45° and single mitre up to 90°. Tenon, mortise joints, and a wide variety of angled cuts can also be made.
Morso F De-Luxe leaves the cut surface of the wood perfectly smooth and accurate, requiring no further preparation before joining.
The horizontal movement of the knife block is stepwise adjustable. The sliding longitudinal stop and measuring scale ensure accurate repeat work.
The special lever system of the machine ensure a very easy operation.
Twin return springs automatically bring the knives back to starting position.
Morso F De-Luxe is delivered with safety guard, sliding longitudinal stop, four coloured Visi mitre gauge, adjustable fences ( 45° - 90° ), right hand side extension table with supporting leg, and adjustable rebate supports.
The automatic rebate supports can be fitted onto the machine as accessories.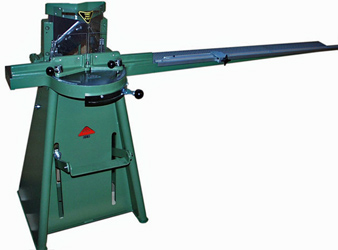 ---
Technical data for
Morso Model F De-Luxe Mitring Machine
Double mitre
45°
Single mitre up to
90°
Cutting width, max.
100 mm
Cutting height, max.
160 mm
Square cutting
65/65 mm
Measuring scale up to
1,500 mm
Net weight
98 kg