Morso SafeSaw 100 Double Mitre Saw
The Morso Safesaw 100 has been designed especially for cutting aluminum profiles, but cuts also other materials such as hard and soft wood, MDF etc. in a double miter of exact 45 degrees.
The Morso Safesaw 100 has been designed with a high focus of the safety of the operator. Therefore a dual hand release system must be activated in order to cut any material. The dual hand release system protects the operator from touching the saw blades during operation, as both buttons must be activated during the full cutting cycle.
Furthermore the safety cover is equipped with a safety switch which prevents the Morso SafeSaw 100 from starting when the cover is open (or maybe has not been closed properly). The two saw blades are therefore properly stored away behind the safety cover.
Quality is not compromised in any way, as quality and safety are keywords for any Morso machine. The main working table and the right hand extension table are both made from cast iron, (like on the well known Morso F mitring machine) and pneumatic and electric parts are supplied from some of the most reliable companies in their field.
The Morso SafeSaw 100 has a fixed fence and cuts double mitres only. The working height of the saw blades can be adjusted in three different height positions so the operator saves time when you need to cut small mouldings, as you don't have to wait for a full stroke. And the speed of the vertical movement is adjustable so you can get the exact speed you require.
Each saw blade has its own motor of 2.2 kwh, 2800 rpm.
The Morso SafeSaw 100 cuts any kind of material inclusive aluminum, and it is also available in a fully automated version, with infeed magazine and automatic feeding.
Morso SafeSaw 100 is standard delivered with:
dual hand release system,
safety cover including safety switch,
measuring scale to 1.500 mm – can be extended and is also available in a digital version,
extension table right hand side of cast iron,
extension table left hand side,
emergency stop system,
2 pcs vertical pneumatically operated moulding clamps,
2 pcs 2.2 kwh motors – one for each saw blade.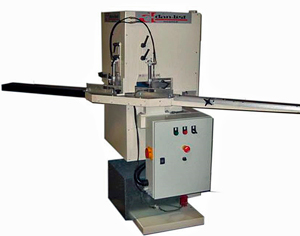 ---
Technical data for
Morso SafeSaw 100 Double Mitre Saw
Double mitre
45°
Cutting width, max.
75 mm
Cutting height, max.
80 mm
Square cutting
75/75 mm
Measuring scale
1.500 mm
Motor
400 volts
Motor size, each sawing unit
2.2 kWh, 2800 rpm.
Net weight
230 kg