Morso Model UP-M Frame Assembler
Morso Model UP-M frame assembler is a manual bench model which is operated by a single pressure on a hydraulic foot pedal.
The Morso Model UP-M is perfect for the small shop, which does not have a lot of space.
The Morso Model UP-M can be placed almost everywhere, and does not require any kind of compressor or electricity.
Standard equipment for the machine is:
two stops for wedge position,
single pressure pad for plain mouldings,
two double pressure pads for mouldings with different profiles,
adjustable fences - 90, 60 and 30 degrees for rectangular, hexagonal and octagonal frames,
two refillable solid-steel cartridges for 7 and 10 mm wedges, respectively,
one box of 7 mm wedges ( 5,000 pcs ),
one box of 10 mm wedges ( 3,000 pcs ),
hydraulic foot pedal.
The above is all included in the price of the machine, which means there will be no extra costs to the machine price in order to start working.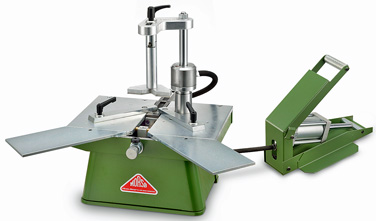 ---
Technical data for
Morso Model UP-M Frame Assembler
Wedge size
5, 7, 10 and 12 mm
Thickness of moulding, max.
55 mm
Thickness of moulding, min.
6 mm
Width of moulding, max.
105 mm
Width of moulding, min.
6 mm
Dist. between wedges, max.
85 mm

Machine dimension:


Length x width x height
335 x 240 x 420 mm
Height, working bench
176 mm
Weight
25 kg