Morso Model UP-AKS Frame Assembler
Morso Model UP-AKS frame assembler is an automatic, pneumatic floor model, which is operated by two hand release and a pneumatic foot pedal.
Therefore, the Morso Model UP-AKS is absolutely safe to operate.
Standard equipment for the machine is:
two stops for min. and max. wedge position,
single pressure pad for plain mouldings,
two double pressure pads for mouldings with different profiles,
frontal clamp device holding corners tightly together to create a perfect joint,
adjustable fences for all angles, e.g. for rectangular, hexagonal and octagonal frames,
built-in support for long mouldings,
two refillable solid-steel cartridges for 7 and 10 mm wedges, respectively,
one box of 7 mm wedges ( 5,000 pcs ),
one box of 10 mm wedges ( 3,000 pcs ),
air filter,
oil lubricator,
height-adjustable stand,
compressor.
The above is all included in the price of the machine, which means there will be no extra costs to the machine price in order to start working.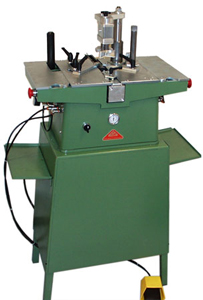 ---
Technical data for
Morso Model UP-AKS Frame Assembler
Wedge size
5, 7, 10, 12 mm
Thickness of moulding, max.
65 mm
Thickness of moulding, min.
6 mm
Width of moulding, max.
150 mm
Width of moulding, min.
6 mm
Dist. between wedges, max.
130 mm

Machine dimension:


Length x width x height
575 x 330 x 490 mm

Stand dimension:


Height, max.
Height, min.
Width x length
2 shelves, width x length
800 mm
570 mm
500 x 415 mm
150 x 320 mm

Compressor 75/150:


Voltage
Output
Capacity
Air pressure, max.
220/110 V
78 litre/min
15 litres
8 bar
Air pressure
6 - 8 bar
Height, working bench
272 mm
Weight
95 kg