Dan-List Dowel Boring Machine Model AFP 2500
Dan-List AFP 2500 – with automatic programmable forward movement of work pieces.
The Dan-List AFP 2500 is the ideal, high quality, Danish made automatic dowel boring machine for the production which requires high flexibility and quick set up times. Only European components of the highest possible quality are used in the construction of the machine, and most components are made by ourselves, for example the drilling units and drill blocks.
The machine has standard one drilling unit from the top and one from the side, but more units can be added upon request.
Adding a saw blade and use the machine to cut the pieces into length before drilling is also possible.
The Dan-List AFP 2500 has a pusher which is programmable and controlled by a servo motor.
The accuracy of each drilling position is 1/10 of a mm.
PLC:
The PLC has a memory of up to 99 different positions, but again more can be added upon request. Each program contains 18 drilling positions, and once the program has been made and stored in the PLC, you just call it next time you have the same item, change the drills and adjust the magazine and the machine is ready to drill. Set up time is therefore reduced to less than two minutes.
The Dan-List AFP 2500 is very easy to use, and any operator can learn the functions of the machine within half a day. The machines goes automatically into standby mode, as soon as the magazine is empty, and wait for the next items to be loaded. Therefore the operator has the possibility to operate a second machine or to stack the finished work pieces onto a pallet while the machine is working. The Dan-List AFP 2500 is a one man operated machine. However it is also possible to integrate a robot with the machine.
The operator language on the touch screen will be English, but can also supplied in any local language.
The cycle time depends on how many positions is added to the program, but please contact us for an exact calculation time for your work pieces.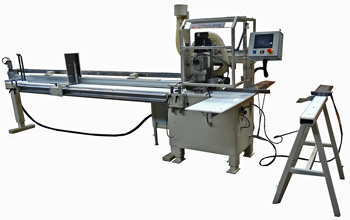 ---
Working cycle:
The working cycle could be like this:
Program is made and stored. (Has the program already been made, then just call it to the touch screen).
Machine is set up – magazine is adjusted, drills are changed – Set up takes less than two minutes.
The pusher take automatically the work piece from the magazine to the first position in the program, where the work piece is clamped pneumatically and drilled. Then the pusher moves the work pieces to the second position in the program where it is clamped and drilled. This continues until the work pieces is finished.
When finished the work piece is pushed onto runners which are placed next to the machine and the pusher returns to pick up a new work piece.
For a demonstration video please visit www.danlistvideos.com.